Lubomila Jordanova is the CEO of PlanA.Earth, founder of the Greentech Alliance and one of the loudest voices in the European Startup Ecosystem when it comes to climate change. How did she get there? Why does she want to be called a female founder? And why are climate change and gender inequality inherently connected? 
You have been quite busy working and travelling lately. How are you dealing with meetings and events happening in person and not virtually anymore?
I'm quite excited about being able to spend time with people in the same room again. I feel a lot more energised and connected to the causes and ideas. When you meet in person, you get to know people a bit more personally. Travelling has been an interesting experience, too. I had forgotten that I have to have a bit of a buffer, when I'm going from one meeting to the other. I am learning again how to do this in an effective way.
Let's go back to the beginning: How did you get involved in the topic climate change and ESG?
My journey was not straightforward. I did not study anything in the sphere of sustainability, so I wasn't a professional. I've always been in finance. In 2016, I went on a surfing trip to Morocco. Instead of surfing, I ended up cleaning beaches, which led me to become absolutely obsessed with the topic of climate change. I went back to London and had no other topic on my mind. I really wanted to understand: What is pollution? What is the correlation between pollution and climate change? How do human actions impact the health of our planet? I learned a lot about a topic that was fairly new to me – and I did this on the side of my normal work as an investment banker. In a short amount of 12 months, I was convinced that there was nothing else that I could dedicate my skills and knowledge to, but to the cause of climate change.
---
About Lubomila Jordanova
Lubomila Jordanova is the founder and CEO of PlanA.Earth, a Berlin-based and Science- and AI-driven startup for business carbon accounting, decarbonisation and ESG reporting. She is also the co-founder of the Greentech Alliance, a community of more than 500 startups. Born in Bulgaria, Lubomila Jordanova later moved around the world. Prior to Plan A, she worked in investment banking, venture capital and fintech in Asia and Europe. In 2022 alone, she was mentioned among the "Top 50 Women Entrepreneurs of Germany 2022" by Handelsblatt and was voted one of "35 Innovators Under 35 2022" by the MIT Tech Review. Lubomila Jordanova is currently part of the six-month Obama Foundation Leaders Europe programme for 2022
---

How did you come up with the idea of Plan A? Why did you decide to found it?
The idea didn't come immediately, we pivoted a bunch of times. The most important thing was that we embedded science at the core of everything that we were doing. The first idea that we had was really building a platform where people can identify investment choices based on scientific knowledge. And ultimately, this was what we built. But we also quickly learned that there was a really good way of turning these insights not only useful for individuals, but also for businesses. And essentially, within a year we pivoted from a B2C to a B2B model.
What is your mission with Plan A?
Our mission is to decarbonise the economy. We are working actively on enabling businesses to understand what the biggest levers for them are to reduce their emissions. And how this can be supported and optimised through technology so that they can save costs along the way.
"Anyone that wants to be sustainable financially in the coming decade, is dependent on preparing themselves for a future-proof reality."
Can you tell me a little bit more about how it works?
We have developed a software as a service platform that enables businesses to measure and monitor their carbon and ESG performance. Our platform gathers millions of data points that give us a good understanding of how the company is performing and what the biggest levers for improvement are. Based on these granular insights, our software AI automatically creates tailor-made action plans, including solutions and activities for Paris-compliant decarbonisation on ESG improvement. We use machine learning and science to be able to do that. As a final step in this holistic sustainability journey our software produces ESG and GHG compliant reportings. We work with small, medium, and large-sized companies. And for each one of those we have different modules on the platform that can support specifically their needs.
Do you often encounter greenwashing in your field of work?
I personally have been speaking up a lot about the fact that as sustainability becomes a lot more of a prominent topic for many, greenwashing will also increase due to unintended or intended actions. For us, it is important to make clear that we have a certain set of industries that we do not work with.
Which industries do you choose not to work with?
We don't work with coal; we don't work with oil and gas. We do work with utility, but only for companies that have a clear pathway of eliminating emissions and becoming more sustainable. Also, we as a company as well as our product follow a strong decarbonisation-first approach. It's not about compensation, it's not about carbon neutrality claims – it is first and foremost about the actual reduction of emissions. Only for unavoidable emissions do we offer compensation in the form of carbon offsets and carbon removal certificates. For the compensation that we offer to our clients, we only work with project developers, which means that 100 percent of the money that our clients give to these projects go to the projects. We don't charge for that.
"All the issues related to climate change are deeply connected to many other issues such as inequality or diversity"
How do you get companies to care about climate change and corporate responsibility in the first place?
It really is about explaining to them that climate risk is financial risk. Anyone that wants to be financially sustainable in the coming decade is dependent on preparing themselves for a future-proof reality. They must understand the impact they have on this planet and how it can be mitigated so that they don't necessarily experience any negative repercussions of climate change that can impact their supply chains or employees. Today, people purchase and invest and choose their jobs with their values in mind, which means that preparing yourself for the future also means aligning yourself to their values. For smaller companies, the risk is related to not being able to sustain themselves in the future, because of employee, customer, and investor risks. For larger companies, it's about preserving the quality of their supply chain by making it more sustainable.
You mentioned in an article that you noticed that facts weren't working with individuals and companies, that you had to convince them with emotions. How did you proceed to do that?
I think the best way to convince someone that climate change is an issue that they should care about is really to connect to the values that they already have embedded in them. Unfortunately, all the issues related to climate change are deeply connected to many other issues such as inequality or diversity. And if you find someone in front of you that really is connected to one of those issues, you can always link it back to climate change, allowing people to see themselves in the context of climate change.
Before founding Plan A, you were working as an Investment Banker in London. You quit your job to start your own business – How did you do it and what was the biggest challenge?
There are three challenges that I can highlight for the first two years of Plan A. The first one was about knowledge on the market. We spent a lot of time getting our clients, our customers and other stakeholders excited about the economic opportunity of making a change and educating them about climate change. The second one was about financial education and investment knowledge. Now, it seems like everyone is investing in climate tech. But in 2017 there was very little interest in investing in this field. And the final bit was, doing all of this by myself, as an entrepreneur. Building a business was not quite like anything else that I had done before. It requires you to be versatile, to have an open mind and to constantly be taking on a challenge that you've never taken before. From today's perspective, I cherish these challenges because it gives me the confidence that I have developed a wealth of knowledge and we have played a crucial part in educating consumers, businesses, and investors of why this industry matters.
"Have I seen discrimination? Yes. Have I seen disrespectful acts and behavior coming from men? Absolutely. But I've never treated myself as a female founder that was marginalized"
As a female founder – what were and are your experiences in the startup world?
I feel like there is a necessity for us to shift the dynamics of the discussion about female founders and just start talking about them being founders. There is a bit of an issue with the fact that we continue to be divided from everyone else. I don't think being a woman has hindered me from achieving anything. Have I seen discrimination? Yes. Have I seen blunt disrespectful acts and behaviour coming from men? Absolutely. But I've never treated myself as a female founder that was marginalised. Rather, I treated myself as anyone that would be discriminated against on their entrepreneurial journey. And with this little switch of mindset, I was able to be a bit more ignorant to these kinds of comments. Instead of victimising myself, I started considering that not every single person on this planet is a nice person. I think every woman that is building a company should continue to repeat to herself: "I am an entrepreneur; I am a founder." And whenever someone comes their way and tries to tell them otherwise, they should move on and start talking to other investors because these people really don't deserve their time and attention.
You frequently speak out about gender inequality. What do you consider the next important steps to tackle this issue?
I want to emphasise on the fact that climate change is a woman's issue. Unfortunately, it is mostly women who are carrying the biggest burden in households, especially in the Global South. And that's something that is not discussed enough. There has to be a redistribution of resources, purely due to the fact that there are a lot of women within the context of climate change that need to be supported.
In a more general context: I have been getting a bit tired of being invited to events where I continue to speak about women and how we need to empower women, how we need to finance them better, and how we need to be more. Instead, I think we need to go past this discussion and move into action. Action that is driven by quotas, action that is driven by statistics that track the amount of funding that goes into women-led businesses. We have to fraction this shift, and make it more clear how slow the progress is. So that hopefully we can act faster.
"By hearing the stories of women that have gone from one background to another – you can shift careers, and mindsets"
You are speaking at Lead Today Shape Tomorrow, Europe's leading event for female entrepreneurship, in June. Why do you think it's important to be part of a conference that fights for equal opportunities in the European Tech & Startup Ecosystem?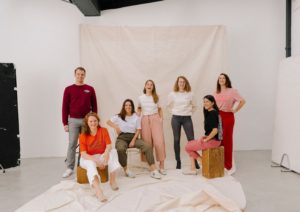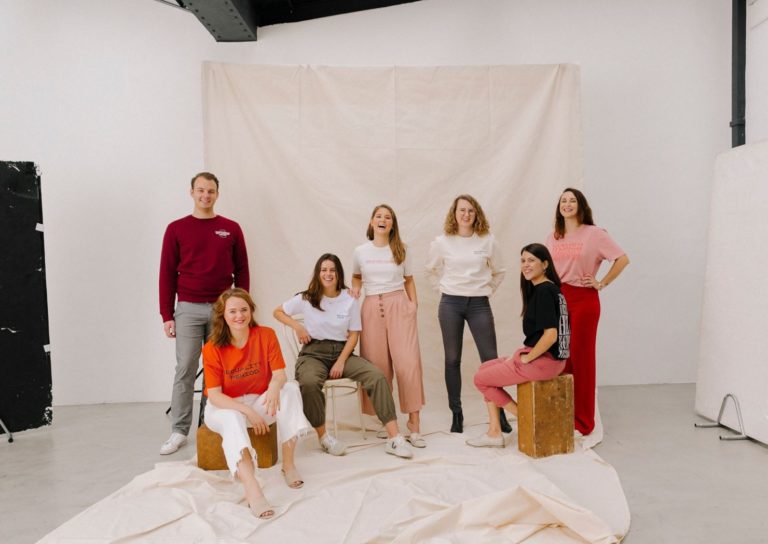 I'm incredibly excited to be part of this conference because I've always been amazed by the team behind this event. They've been putting the discussion about women in the context of all these empowered human beings that matter, as well as the successful future of our economy. The health of our planet is dependent on them, which makes me excited to be put in the same setting with all the other women that they have honoured with an invitation. I find this discussion to be incredibly important for the fact that we have a lot of stories to tell, and we won't stop until we have fixed all these issues. Stories are the best way in which you can connect to someone and the way you can persuade someone to change. Just by hearing the stories of women that have gone from one background to another – you can shift careers, and mindsets. They made it but they have never stopped. You start seeing yourself as someone that can achieve that as well.
What are you most excited about, concerning the event?
Being in the energy of all these women and other participants. I'm sure there's going to be a lot of productive conversations and exciting people.
Lastly, can you describe how you hope the world will look like in 2050?
In 2050, I hope we have unified frameworks for reporting around sustainability, decarbonisation and ESG. I hope we'll have a unified corporate agenda around sustainability that is clearly defined by decarbonisation and is already speaking in results related to having achieved a 50 percent reduction of emissions on a global scale for the major polluting industries. And finally, I would hope that we have a society that is not as polarised around topics such as diversity, climate change, equality, and any other social, environmental, and governance issue. Once we are unified around something, it will allow us to benefit from the skill sets, the knowledge and the excitement that people bring to the table.
---
Lead Today Shape Tomorrow (LTST) 2022 is Europe's leading event for female entrepreneurship, creating meaningful connections between more than 2.500 participants in a hybrid format. It is where startup & tech opinion leaders come together to contribute to an ecosystem with equal opportunities for everyone. The event is taking place on June 1st-2nd, 2022 in Vienna and online. Use "Lubomila30" to get 30 percent off your tickets.